Building Management Systems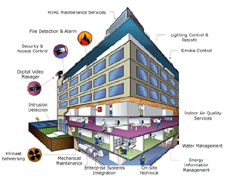 Corporate companies and industrial complexes often require two or more of the above systems. Hence, for more effective monitoring of the systems and area management, various systems are integrated to provide for a single point monitoring and enhance control over the large premise form one central location. Integrated systems including Intrusion, Fire, Access Control having an additional capacity if intelligent environment control and energy management e.g. HVAC control, light control, emergency lighting and exit control etc. over a central PC known as Intelligent Building Automation Systems.
Building Management Systems, involves the design, manufacture, software programming, Graphical User Interfaces (GUI) and commissioning of control systems to efficiently control heating, ventilation and air conditioning (HVAC) within commercial and industrial buildings.
Considerable energy savings and closer, more accurate control of plant & equipment are the main benefits of a BMS System.